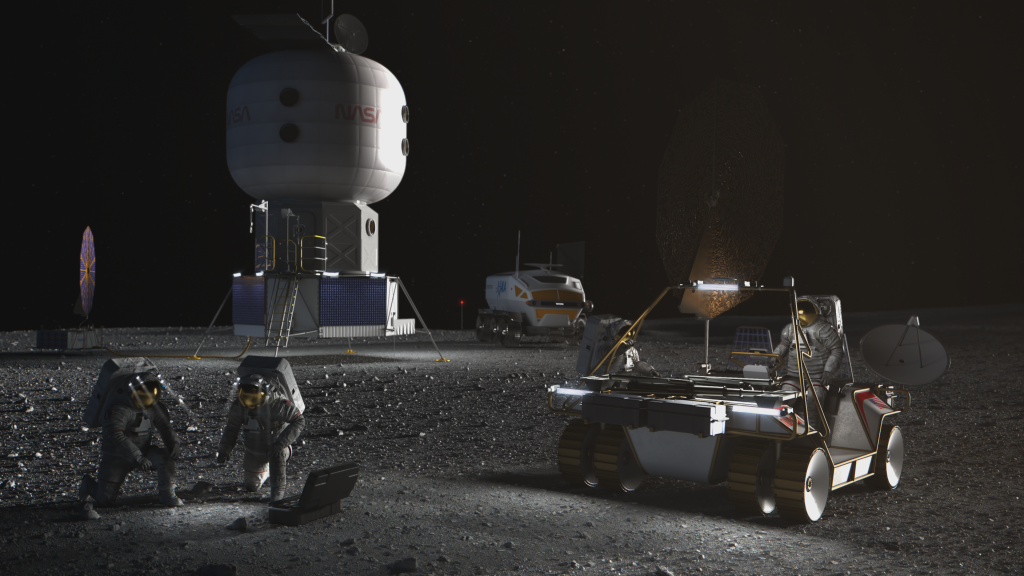 Through the 2024 HuLC competition, NASA's Human Landing System (HLS) Program provides college students the opportunity to explore innovations and potential solutions to lunar Plume-Surface Interaction (PSI) risks and challenges.
NASA's HLS Program is responsible for the transportation in deep space to carry humans to and from the surface of the Moon for NASA's Artemis lunar exploration program. Crews will board the HLS in lunar orbit and descend to the surface where they will collect samples, perform science experiments, and observe the lunar environment before returning to orbit in the HLS.
To land large payloads on the Moon, the HLS uses rocket engines for descent, landing, and ascent. High-velocity dust ejected by descent engine exhaust can cause damage to a lander, as well as nearby surface assets. When the plumes interact with the lunar regolith, surface erosion and cratering begin, and the interaction produces high-speed ejecta. The lofted regolith and high velocity ejecta can reduce visibility of sensors and optics, sandblast nearby landed assets, and erode the surface around the vehicle. These interactions between the plume(s), surface, erosion, and ejecta are termed Plume-Surface Interaction (PSI), and understanding and mitigating PSI effects are critical for safe landings and sustainable exploration on the Moon.
Teams are invited to submit proposals for innovative, systems-level solutions to understand, mitigate, and manage the impacts of lunar PSI that can be implemented within 3-5 years. The potential solutions teams can propose to could include, but are not limited to, the following categories:
Trade Studies on Landing Trajectories that Minimize PSI
Reduction / Mitigation of Erosion (Cratering) and Ejecta during Descent, Landing, and Ascent
Development of PSI Flight Instrumentation / Measurement Methods and Concepts
Tracking Dust During Descent, Landing, and Ascent
Instrumentation Performance Through the Dust Cloud During Landing
HLS Asset Safety (ejecta damage, excessive lander heating, etc.)
PSI Modeling and Validation
This is only a brief excerpt of the 2024 HuLC competition.
Please read the full, printable 2024 Challenge Guidelines by clicking the link below.
Date
Description
Wed., April 19, 2023
Noon EST
Deadline for teams to submit questions in advance for Q&A Session #1

Fri., April 28, 2023
2:00 – 3:30 p.m. EST
Q&A Session #1



Now rolling until March 4, 2024!


Formerly, October 22, 2023
Notice of Intent (NOI) Deadline
Tues., October 31, 2023
Noon EST
Deadline for teams to submit questions in advance for Q&A Session #2
Wed., November 8, 2023
2:00 – 3:30 p.m. EDT
Q&A Session #2
Monday, March 4, 2024
Proposal & Video Submission Deadline
Fri., March 29, 2024
Teams are notified of their selection status
Wed., June 5, 2024
Technical Paper and/or Technical Demonstration Submission Deadline
Mon., June 24, 2024
Noon EST
Presentation & Digital Poster Files Submission Deadline (Noon EST)
Mon., June 24, 2024
Time TBD
Team Check-in at the HuLC Forum
June 25-27, 2024
Human Lander Challenge Forum at or near NASA's Marshall Space Flight Center in Huntsville, Alabama