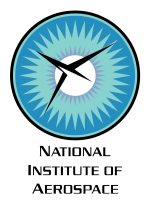 The National Institute of Aerospace (NIA) is a non-profit research and graduate education institute created to conduct innovative aerospace and atmospheric research, develop new technologies for the nation and help inspire the next generation of scientists and engineers.
NIA serves as a strategic partner to NASA and the aerospace community to enable research creativity and expand technology development opportunities. The Institute integrates research and graduate education while creating new government / academia / industry partnerships to solve tomorrow's problems today.
The Human Lander Challenge is sponsored by NASA's Exploration Systems Development Mission Directorate's (ESDMD's) Human Landing System (HLS) Program Office and managed by the National Institute of Aerospace.
The HuLC Program Team will respond to questions presented by eligible students and faculty from accredited colleges and universities in the United States.  Questions may be emailed to HuLC@nianet.org.